SUBCONTRACTING - I'M BUYING IT! - a new event at the SUBCONTRACTING fair!
Already at the upcoming SUBCONTRACTING 2023, we are preparing a series of interesting presentations for participants aimed at providing expert knowledge in the scope of improving the operation of supply chains.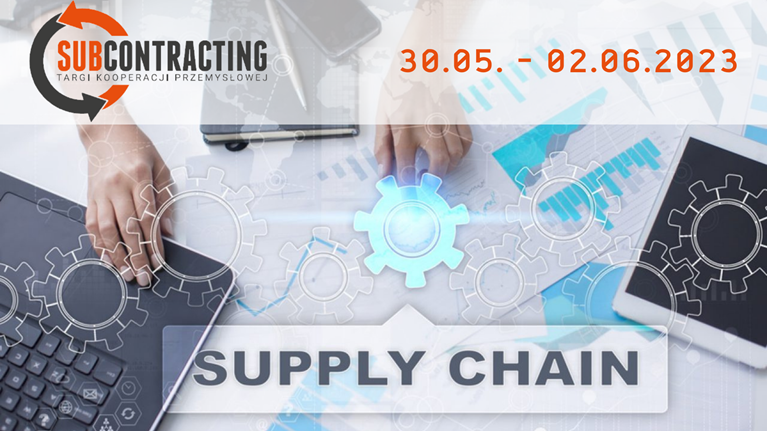 The SUBCONTRACTING Industrial Exhibitions is an event that allows for the free exchange of contacts between industrial clients and subcontractors.  This is the easiest way to get new industry orders, contacts to entrepreneurs and producers.  The contracting meetings at Subcontracting Meetings form an integral part of the Subcontracting fair. A dedicated Internet platform is used to plan them, where you can view the available offers and then arrange the details of a 30-minute face-to-face meeting. SUBCONTRACTING MEETINS take place in a zone specially arranged for this purpose as part of the fair exhibition from 31 May to 1 June 2023.  
- A lot has been written and said about the fact that the situation in many sectors of our economy is difficult and volatile. There is no point in repeating worn-out catch phrases. Many companies are facing difficult decisions about what strategy to adopt for the near future. In discussions with exhibitors not only from the Subcontracting fair, but also from other industries, we can observe two attitudes to the decline in orders. Some companies take a defensive stance and reduce any possible costs in order to survive until "better" times, while others invest in tools to acquire new customers.  The co-operation fair seems to be an ideal place for this. Subcontracting in a block with the international trade fairs, ITM Europe and Modernlog provides the opportunity to meet customers from all over the world. This is an opportunity to match, for example, companies that have spare capacity with companies that need to produce short series of products. Short enough that it is not worth building your own plant. The idea of outsourcing is to outsource processes that do not need to be carried out in-house. It allows you to focus on your "core business". This usually saves money, especially when skills and technologies we do not have are required for the process. - emphasises Robert Męcina, director of the Subcontracting Industrial Cooperation Fair. 
Owing to collaboration with recognised practitioners, the subject of improving supply chains in the areas of sales, operations and production planning will alreadyresonate strongly at the upcoming SUBCONTRACTING 2023. SUBCONTRACTING - I'M BUYING IT! - is a platform for supply chain management professionals to share knowledge, experience and best practices to discuss proven strategies and the day-to-day challenges of supply chain managers and to discuss the key skills and resources required to drive business growth. The programme block of the Fair will include topics such as: 
"Subcontracting in interesting times. In God we trust, all others must bring data" - Aleksander Okraska, MPM Productivity Management Sp. z o.o. - will focus on addressing cost issues - pricing of your bid as a supplier/subcontractor; measurement / assessment of risks as the ordering party;
 "When there is a lack of what is needed and too much of what is unnecessary. New method of stock management" - "Demand Driven Materials Requirement Planning" - Tomasz Sokołowski, MPM Productivity Management Sp. z o.o. - will address the area of DDMRP - as a new method of production planning and material procurement;
Zbigniew Sobkiewicz, MPM Productivity Management Sp. z o.o. - will address the topic of "Broken supply chains - a black swan or a disruption to predict?"
"Involving suppliers in optimisation" - Diana Najtkowska-Sapryk, ProcureMe
"What changes to implement in the company to establish cooperation with contractors of well-known brands" - Maciej Kosinski, Quality Concept
"Cooperation with a monopoly partner" - Jacek Jarmuszczak, Łukasz Jędraszkiewicz, Okiem Kupca
"Modern legal forms of industrial contracting" - Tomasz Lewandowski, PhD, SMM Legal
"Innovative approaches to contract negotiations in industrial companies" - Andrzej Kulbiński and Beata Galuszka, PROEBIZ
- Subcontracting 2023 is not just about trade meetings. By working with professional partners, we are creating a valuable block of presentations and debates to which we invite fair participants. We will talk, among others, about the ways to mitigate the effects of supply chain disruptions, modern stock management methods, experience in client-subcontractor cooperation, management of supply sources or purchasing processes. We are thus significantly expanding the programme offer this year for visitors dealing with procurement in their companies. - Director Męcina adds. 
YOU ARE CORDIALLY INVITED!
The SUBCONTRACTING Industrial Cooperation Fair  will be held on 30 May - 2 June 2023 on the grounds of Poznań International Fair. At the same time it will be possible to visit the exhibition: ITM INDUSTRY EUROPE, the Modernlog Logistics, Transport and Storage Fair and the BHP - Work Safety in Industry Exhibition.